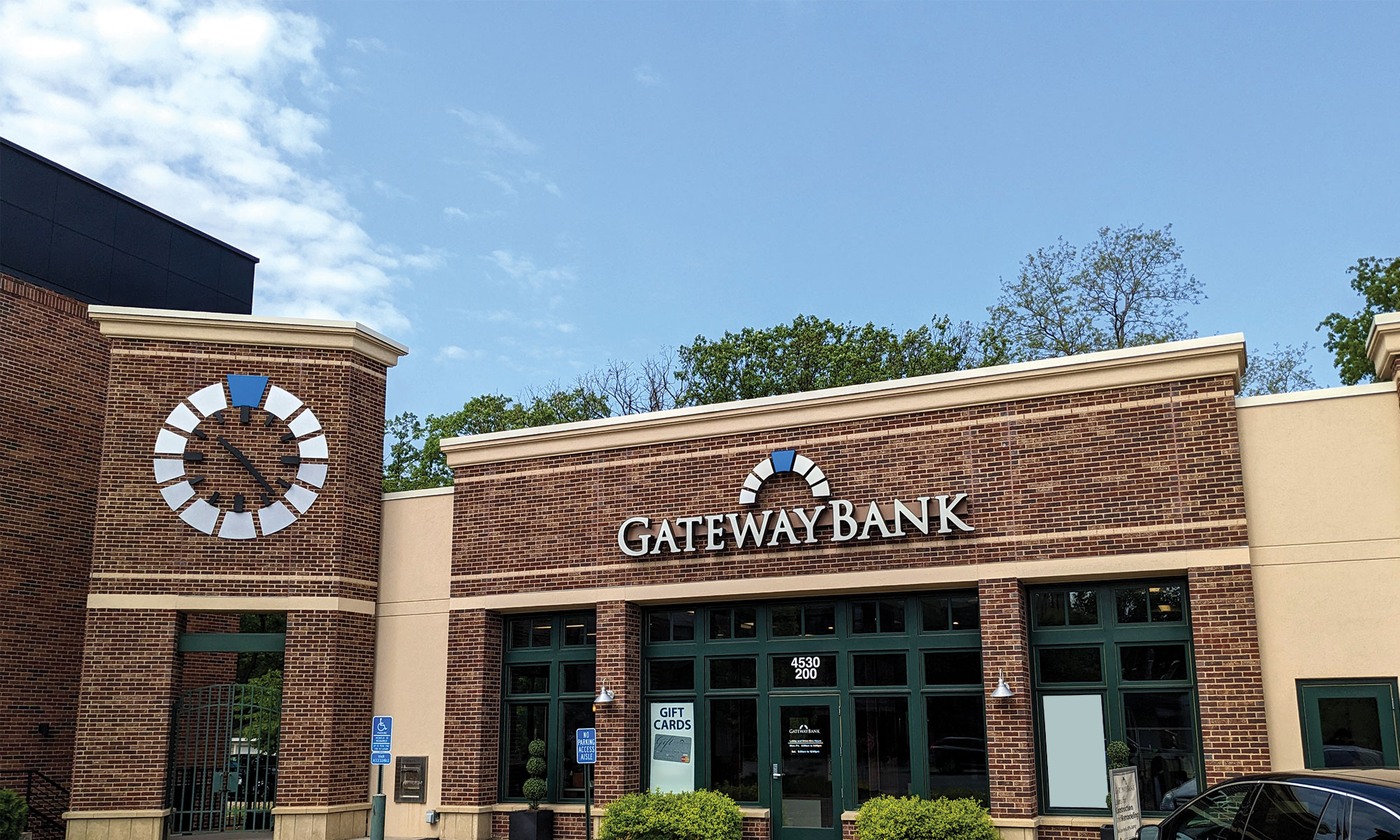 Hi neighbor
You've probably seen us around town. Our branch is practically in your backyard. Our associates live and shop in the neighborhood. And we regularly support the local community through event and team sponsorships.
What you might not know is Gateway has an extensive, top-notch roster of financial services. Plus, a team of friendly bankers who want to help you get your finances squared away—so you can get on with your life.
Our services, associates, and highly personalized approach to banking form what we call the Gateway Experience.
Build your Gateway Experience
Another neighborhood perk—great rates!
Our competitive CD and Savings Account rates are tailored for neighbors just like you.
2.60% APY**
Treasury Savings
*Annual Percentage Yield for the certificate of deposits on daily balances of $1,000 or more. Minimum balance of $1,000 to open the certificate. Penalty for early withdrawal. APY is accurate as of 7/10/23. Rates are subject to change. Fees could reduce earnings on account.
**Annual Percentage Yield advertised for the Gateway Treasury Savings account is current as of 7/31/23 and is subject to change. Rates earned on daily balances of $50,000 and up 2.60% APY; $25,000 - 49,999.99 0.55% APY; $10,000 - 24,999.99 0.45% APY; $2,500 - 9,999.99 0.35% APY; $0 - 2,499.99 0.10% APY. A minimum balance of $10,000 to open the account is required. Rate is subject to change after account has been opened. Fees could reduce earnings on account.
Personal service when you need it, the best online banking tools when you don't. That's the Gateway Experience.
We do things a little differently than other banks. Sure, we've got all the same secure tech tools for checking your balance, paying bills, and depositing checks. But when it comes to the other parts of your financial journey, rather than taking the one-size-fits-most approach, we favor a much more personalized one.
Our small, local team of associates sincerely wants to get to know you—to understand your goals, dig into your dreams, address your concerns, and cheer you on. Whatever's on your mind, we're here to listen.
Check out what our neighbors are saying
"Working with Gateway Bank has been a fantastic experience. Every time I come into the bank, everyone greets me by name, and it feels like I'm walking into my workplace. It's very apparent that they value a "people first" approach whether it's a short chat about the weather, recent or upcoming trips or how our business is doing I am always excited to go to Gateway. It's the kind of experience that you simply do not get at the big banks and part of the reason that we chose to bank with Gateway."
- Suresh G, Wooden Ship Brewing Co.
"I have personally and professionally used Gateway Bank for over 15 years! Both Bruce and Brian have helped me financially grow my practice and build a beautiful practice. I couldn't have gone through that journey without trusting Gateway Bank completely."
- Dr. Krista Bauer, Champlin Family Dental
"After many years with a large regional bank I made the switch to Gateway Bank and have never looked back since, in fact I am looking forward to many more years to come. I thoroughly enjoy going to the bank and connecting with the entire team. The Gateway team understands everyone has unique personal and business goals, they are able to translate those objectives into banking solutions that fit each scenario. The relationships Gateway Bank has created not only with myself, and my family, but the broader community, and dental community are genuine, trusted, and respected. Gateway Bank is the gold standard for community banking."
- David H
""The reason I choose Gateway Bank, is because at most banks today, you are just a number. Gateway Bank can offer you anything a large bank and more, a smile. My son also banks at Gateway and loves the chocolate chip cookies."
- Alf W
You call, we answer
We're here when you're ready to talk or open an account. Just give us a call, stop in, fill out this form, or shout over the fence.
Mendota Heights - Branch
745 Market Street
Mendota Heights, MN 55118
Edina - Branch
4530 France Avenue South Ste. 200
Edina, MN 55410
Just down the street in Edina and Mendota Heights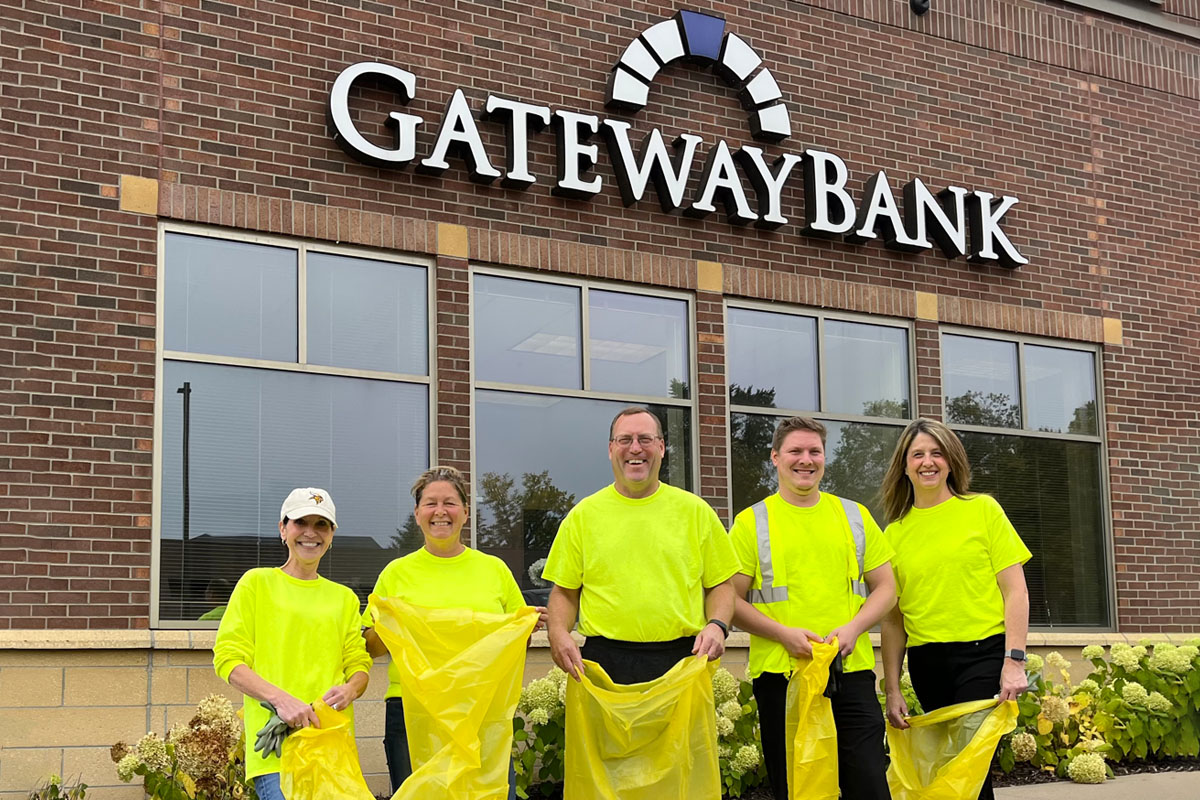 Another kind of service
We're all about service, both inside and outside the bank. Which is why we proudly sponsor numerous projects and events throughout the year in our community. Our goal is to empower our associates and give them the opportunity to have a positive impact with Gateway Gives.
See what we're doing